SUPPLY PRESSURE
Series FF servo valve can be operated at supply pressure of 2~28MPa.
Rated supply pressure for series FF servo valves is 21MPa.The performance given in this catalog is measured at rated supply pressure.
Valve performance, especially for threshold and dynamic response, is degraded with low supply pressure.
Valves can be used at other supply pressures besides rated supply pressure, but some null shift may occur.
In case of that the valve is used at other supply pressures, valve no-load flow can be estimated.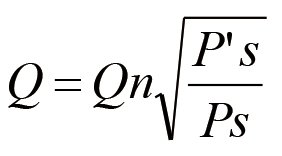 Where:

RETURN PRESSURE
Return pressure may vary widely ( usually not exceed 2MPa). However, increased return pressure may result in some null shift.
Return pressure should never exceed supply pressure to avoid back flowing to hydraulic amplifier.
PROOF AND BURST PRESSURE
Proof pressure capability:
at supply and control ports = 1.5 Ps;
at return port = 1.0 Ps;
after tested, valve performance should still conform with specifications.
Burst pressure capability:
at supply and control ports = 2.5 Ps;
at return port = 1.5Ps or 35MPa maximum;
after tested a valve should not be burst, but it should not be required to retore its specified performance.
FLUIDS
Buna-N is employed in series FF servo valves as sealing material. Working fluids should be aircraft fluid, such as YH-10, YH-15 and anti-wear hydraulic fluids N32, N46 or other petroleum base fluids.
FILTRATION
Fluid contamination level should be in keeping with class 6 to 8 specified by GJB420A. ( class 15/12~17/14 by GB/T14039-2002 specification )
A filter which is 10 μm nominal or better must be provided before servo valve inlet.